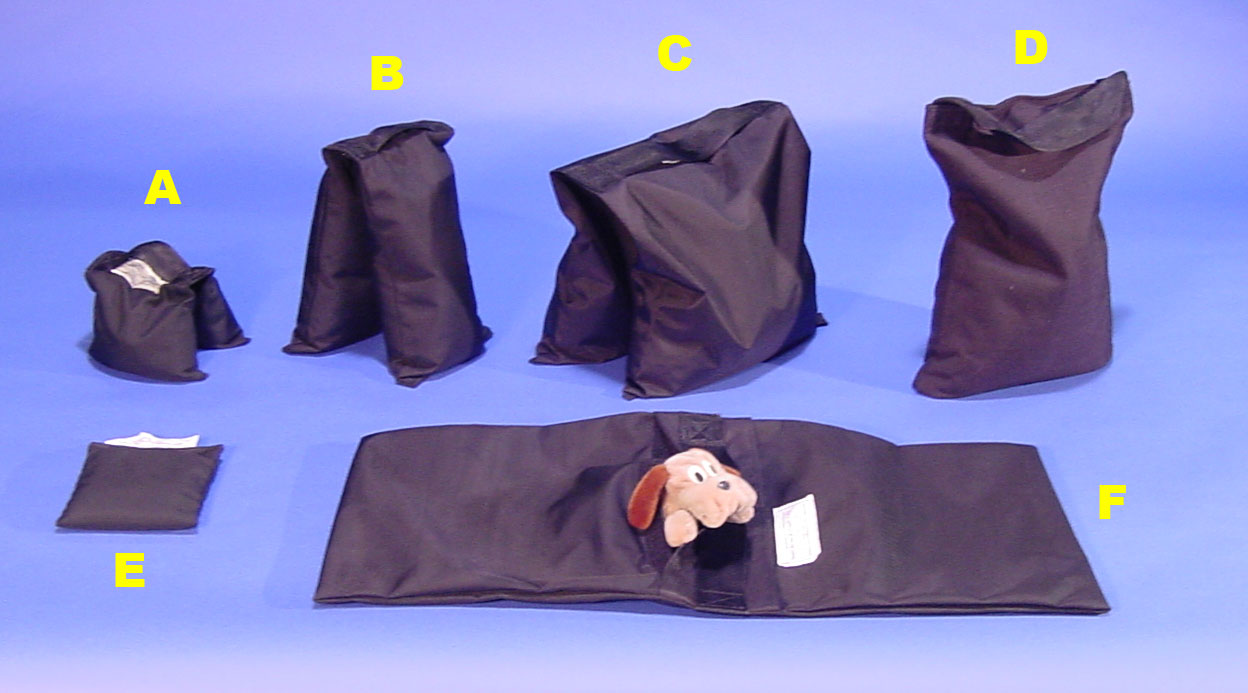 Sandbags for studio grip, scenic, and live entertainment applications are fabricated using durable 1000 denier (tightly woven) nylon fabric which has a urethane coating on the inside to keep out moisture. Color is black. Saddle bag styles (A, B, C) have two halves and 2" webbing handles on both sides. Weights shown for saddlebags are for total of both sides when filled with sand. Bags are filled with clean sand and sewn shut (all you have to do is lift them).
Single bag (D) has one compartment with 2" webbing handle at top. Weight is for filled bag.
Small pillow bag (E) can be used to hold down edges of backdrop paper on floor, to steady small props, or even use for "toss the bag" games (1 lbs size).
"Fly-a-way" saddle bag style (F) has full width flap closures with hook and loop tapes at top of each half (next to handle). Furnished empty - fill and then press flaps closed. Use with disposable plastic trash bags (not included). We ship them empty, then you fill with sand or gravel purchased economically locally. No sewing required. Cuddly plush puppy dog toy not included.
Fig.
Catalog Number
Description
Aprox. Size Empty
Weight *
Price
A
SBSB-05B
Baby size saddle bag
7" w x 9" h
each half
5 lbs. filled
$
25.00
A
SBSC-03B
Baby size saddle bag
6" w x 7" h
each half
3 lbs filled
$
24.00
B
SBPC-10B
Pony size saddle bag
15" w x 7" h
each half
10 lbs. filled
$
30.00
B
SBPC-15B
Pony size saddle bag
15" w x 7" h
each half
15 lbs. filled
$
32.00
C
SBSC-10B
Full size saddle bag
15" w x 16" h
each half
10 lbs. filled
$
35.00
C
SBSC-20B
Full size saddle bag
15" w x 16" h
each half
20 lbs. filled
$
37.00
C
SBSC-30B
Full size saddle bag
15" w x 16" h
each half
30 lbs. filled
$
40.00
D
SBC-10B
Single bag
13" w x 17" h
10 lbs. filled
$
30.00
D
SBC-20B
Single bag
13" w x 17" h
20 lbs. filled
$
32.00
E
PSB-01B
Small sand pillow bag - partially filled to be loose
6" x 6"
1 lbs. filled
$
12.00
E
PSB-02B
Small sand pillow bag -
fully filled for more weight
6" x 6"
2 lbs. filled
$
14.00
F
SBC-VEL
Fly-a-way saddle bag - you fill with your sand or gravel.
13" w x 15" h
each half
30 lbs.
capacity
$
50.00
* Weights of filled bags are approximate. Actual weights will vary slightly. Prices effective Jan 3, 2022, but subject to change.



Custom size sandbags and optional rings, snaps, etc. are available on request.
Empty sandbags are available for customers that have access to an industrial duty sewing machine to sew up the open bottom after being filled with sand.
We will sew on your labels. Just ask.

Hanging sandbags for stage rigging from 10 to 200 pound capacity are also available.

Contact sales@stage-n-studio.com
phone 410-686-1398 - fax 410-574-2417

Theatre Service & Supply Corp.
10004-F Pulaski Hwy
Baltimore, MD 21220 USA